Me rummaging in the watchboxes of the famous with my reputation?
Well,
this week I have mostly been investigating tourbillons
. I was very privileged to have this collection shared with me. Names changed and archive pics to protect the...etc, etc.......
Yes, it's tourbillon central starting with the Greenwich Observatory test entrant (
hardest game in the world
) Patek with the 34T tourbillon in it (The 3834?):
From www.thepurists.com
The "
suit you sir
" bizarre AP Edward Piguet Crystal Inline Tourbillon.
From www.horlogerie-suisse.com
The Richard Mille RM001, but is it one with the titanium plate?
Brilliant.
From www.worldtempus.com
Does my wrist look big in
the exquisite JLC Reverso Tourbillon (rose gold)?.
From www.thepurists.com
and finally, originally the
Patek 5101P
, but having recently chewed up and spat this one out (
no offence
):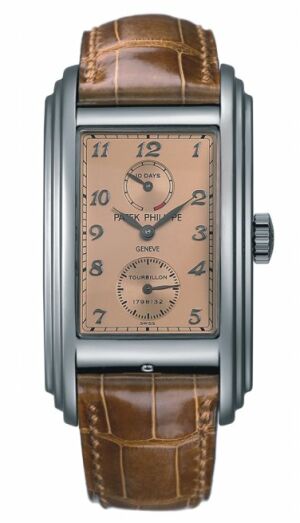 From www.thepurists.com
because "... in the flesh it was a poor rendition of something that should have made my heart stop. The finishing, the colouring, the strap, and the feel of the watch was all very disappointing. My wife thought it looked like a cheap Locman."
Well I wouldn't know about that sir….
, but it's been replaced with that amazing Roger Dubuis Golden Square Tourbillon.
Grrrreat.
From www.horlogerie-suisse.com
However, nirvana remains unattained until RM004, RM008, AP R.O. Cabinet Piece No 4 and AP Alinghi have been added apparently,
which is nice.
Oh yes and I was very very drunk….